K501UW-NB72
Designed to cater to your everyday computing needs, the ASUS K501UW-NB72 is a finely-crafted laptop with a harmonious blend of style and performance.
A striking thin and light minimalist design with a textured metal finish makes an impression wherever you take it. Beneath the gorgeous hood lies the cutting-edge hardware - courtesy of the latest Intel Core i7 processors and NVIDIA GeForce GTX 9 series graphics - this means you can confidently blast through any tasks with ease. On top of that, a range of innovative ASUS-exclusive technologies take it to the next level, giving a better, more comfortable and reliable computing experience.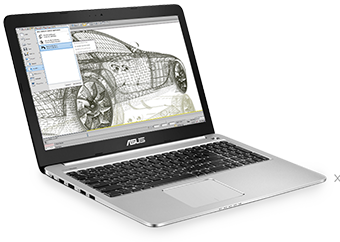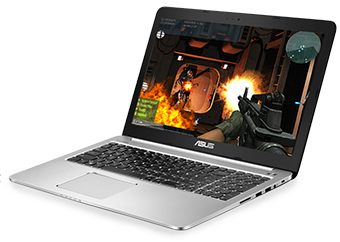 Powerful Intel Core Performance
The K501UW-NB72 is armed with the latest 6th Gen Intel Core i7 processor to give you the performance you need to tackle even the most challenging tasks even the most challenging tasks easily.
Superior NVIDIA GeForce Graphics
Equipped with the powerful NVIDIA GeForce GTX 960 graphics with Microsoft DirectX 12 support, the K501UW-NB72 lets you create exceptional presentations for work, or enjoy high definition movies and games when it's time for you to kick back and relax.
Up to 8GB High-bandwidth DDR4 Memory
Better than its predecessor DDR3 in every way, DDR4 is essential for any high-resolution game, or data-intensive application. It runs at a high frequency, allowing games to run faster and smoother like never before. Whether you are gaming or working, DDR4 will be able to provide superior performance.
All the Storage and Speed You Need
With 750 GB of hard drive storage and up to 128 GB solid state disk (SSD), the K501UW-NB72 has speed and storage in abundance. Store all you need, and fulfil your desire for speed.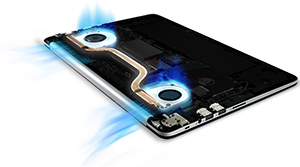 Intelligent Dual Fan Cooling System
The K501UW-NB72 features the Hyper Cool with Duo-copper thermal solution - an upgraded intelligent cooling system with independent copper fans dedicated to cooling the CPU and GPU. This exceptional cooling system keeps temperatures low to prevent overheating and ensure system stability whether you're working on processor-intensive tasks or gaming.
IceCool Technology Keeps You Cool and Comfortable
To keep heating issues at bay, ASUS IceCool Technology features a unique internal layout that keeps palm rest surface temperatures between 28?C and 35?C. This is significantly lower than body temperature so you stay comfortable for hours on end.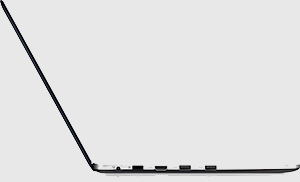 Thin and Light Design
The K501UW-NB72 packs all the features of notebook into a lightweight, thin design. With a thickness of just 21.7mm and weighing less than 2kg, this full-featured notebook combines exceptional performance with high mobility. And when you're out and about, its well-rounded edges and sleek, minimalist lines set it apart from other mundane notebooks in the market.
Premium Brushed Metal Finish and Tactile Surfaces
The K501UW-NB72 turns heads with its simple minimalist lines and a premium brushed metal finish, and is equally ideal for use at home or in the workplace. If you look a little closer, you'll notice exquisite touches like sand-blasted surfaces around the keyboard, a spun-finished power button, and diamond-cut detailing around the touch pad.
ASUS Splendid Technology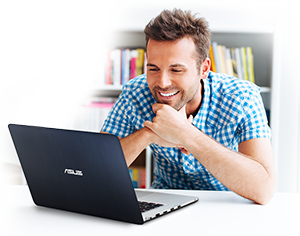 Immersive, Life-like Visuals
The 1080p Full HD LED Backlight anti-glare display grants crystal-clear, sharp image quality. ASUS Splendid Technology enhances the display of ASUS notebook panels to bring colors to life, immersing you stunning visuals with rich, deep hues.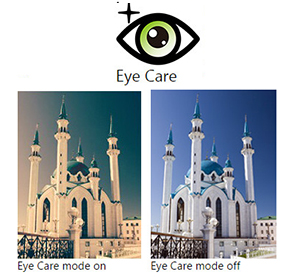 ASUS Eye Care
Most LED panels emit blue light - the main cause of macular degeneration and retinal problems. ASUS Splendid Eye Care mode effectively reduces blue light levels to ensure the right settings for reading, and protecting you from potential eye fatigue and injuries.
Pitch-perfect Audio with ASUS SonicMaster
A mixture of hardware, software, and tuning, SonicMaster was developed with the clear goal of giving you the best notebook PC audio. A professional codec ensures precise sound performance; an optimized amplifier gives you louder volumes, while larger speakers and resonance chambers deliver powerful audio output and deeper bass. Additional signal processing helps fine tune the hardware, filtering noise and improving audio clarity so you can enjoy unrivalled audio on your K501 laptop.
Full-size Ergonomic Keyboard
The K501UW-NB72 employs a chiclet-style backlit keyboard. The keyboard backlighting serves a dual purpose: it looks great, standing out starkly in the dark, and is an aid to continued typing and gaming after lights-out. You'll also get to enjoy solid, responsive keystrokes and a comfortable typing experience thanks to 1.6mm of key travel.

Intuitive Smart Gesture Input
A Smart Gesture multitouch pad gives you unprecedented levels of accurate and intuitive fingertip input, so everything feels natural, whether you're surfing the web, or manipulating elements on screen.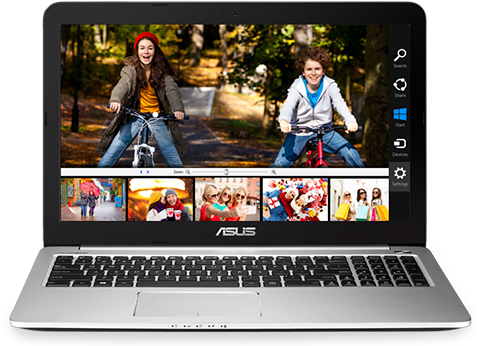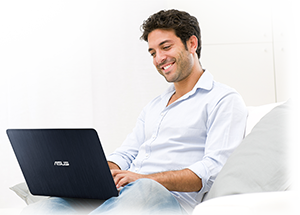 802.11ac: Faster than Regular 802.11n
802.11ac, the next generation of wireless, promises intensified signals and more stable connections. Enjoy stronger throughput, extended coverage, less speed decline, and above all, freedom to play anywhere with your K501UW-NB72 laptop.
Long Battery Life for Extended Hours of Multi-tasking
The K501UW-NB72 has a lightweight, high-capacity battery to give you all the power you need to play the latest games, watch Hollywood blockbusters, surf the web or get work done. Stay productive and entertained for hours on end with your laptop.